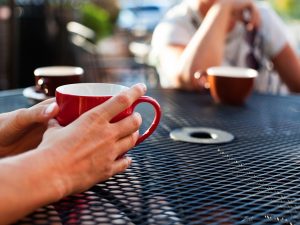 And He went up on the mountain and called to Him those He Himself wanted. And they came to Him. Then He appointed twelve, that they might be with Him and that He might send them out to preach. Mark 3:13-14
Jesus began His ministry by choosing twelve men that He wanted "to be with Him."  Jesus' first priority was to bring them into a close fellowship with himself and one another. They would need to learn the lessons of relationships before they could be sent out to preach. At the end of his ministry Jesus said to his disciples:  "A new command I give you: Love one another. As I have loved you, so you must love one another. By this all men will know that you are my disciples, if you love one another." (John 13:34-35)
God created us for relationships
When God created the world, the Lord reflected each day upon that which He had made "and God saw that it was good."   The first thing God saw that was not good was "it is not good for the man to be alone" (Genesis 2:18).  God not only created us to live in a close, personal fellowship with himself, but also to be in relationship with one another.
All relationships are broken and need reconciliation
The Bible tells us that our sins have separated us from God (Isaiah 59:2).  2 Corinthians 5:18 tells us that "God reconciled us to Himself through Jesus Christ and has given us the ministry of reconciliation."   The reason Jesus Christ came was to repair the relationship between sinful people and himself and to commission us to be his agents or ambassadors of reconciliation to others.  
Eternal life begins with a relationship to Jesus Christ.
Jesus said, "Come unto Me all you who labor and are heavy laden, and I will give you rest.  Take my yoke upon you and learn of Me . . ." (Matthew 11:28-29). Jesus calls us to to come to Him for forgiveness, salvation and eternal life.  He calls us to come to Him to learn from Him as we are yoked together for the sake of serving others. The Christian life is all about relationships.  It's about God changing lives for eternity through person to person contact as witnesses for Jesus.  The mission of the church is the salvation of people through a personal relationship with Jesus Christ.